BASEBALL PAINTINGS
Baseball America's Game: Stars from the past and present are brought to life by Andrea Lavoie's special talent in a series of paintings.
Too Old to Manage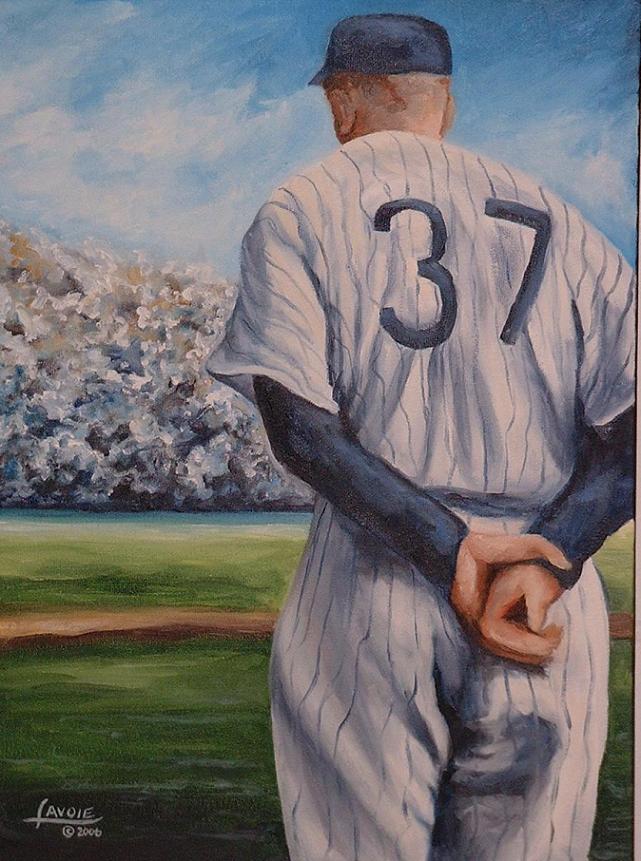 Casey Stengel spent his entire life in the game, most of which was in New York. His big break was when he was hired to replace Bucky Harris* as manager of the Yankees. Casey said there was less wrong with this team than any other one he had managed. He spent over 12 years with the Yankees, winning ten pennants and seven World Series. The Pirates defeated the Yankees in 1960. The Yankees administration fired Stengel following the defeat. They stated that at seventy, he was too old to manage. Stengel replied, "I'll never make the mistake of being seventy again!"
*Thank you Vinnie Terranova for the correction. Casey Stengel
---
Safe at Second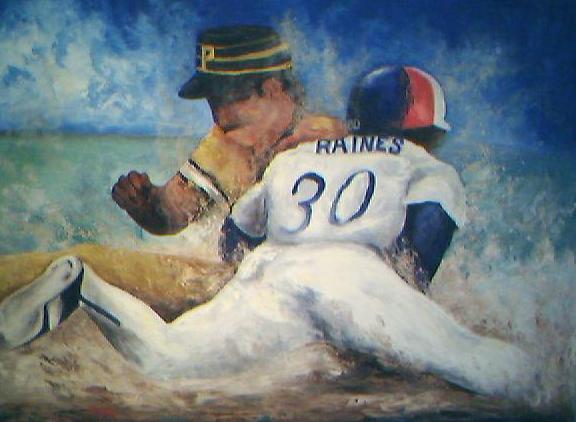 Tim Raines: The late seventies and early eighties' era was the hay day for the Montreal Expos. Starting in 1978, 'Nos Amours' began to attack the National League East with demon-like speed. The 1981 strike shortened season would introduce fans to the symbol of this period. Tim Raines exploded on the scene with 71 stolen bases in 88 games. He would become the Expos all-time stolen base leader. Tim Raines
---
Safe at Home
8"x10" acrylique / acrylic
Vendu - Sold
Jackie Robinson was a race man. He was the first African American to play major league ball in the 20th century. The battles he faced on and off the field wore down his body and soul. In a speech shortly before his death he said, "I must tell you that it was Mr. Rickey's drama and that I was only a principal actor. As I write this twenty years later, I cannot stand and sing the anthem. I cannot salute the flag; I know that I am a black man in a white world. In 1972, in 1947, at my birth in 1919, I know that I never had it made." One city that embraced Robinson was Montreal. After winning the Little World Series for Montreal, Jackie Robinson was chassed down the streets of Montreal. This was one of the first times that a black man was chased by a white mob with love not lynching on their minds. After his death his wife, Rachel Robinson, comforted herself with the thought that her husband could no longer be hurt by the insults. He was finally safe at home. Jackie Robinson
---
Too Old at Thirty
20" x 24" huile / oil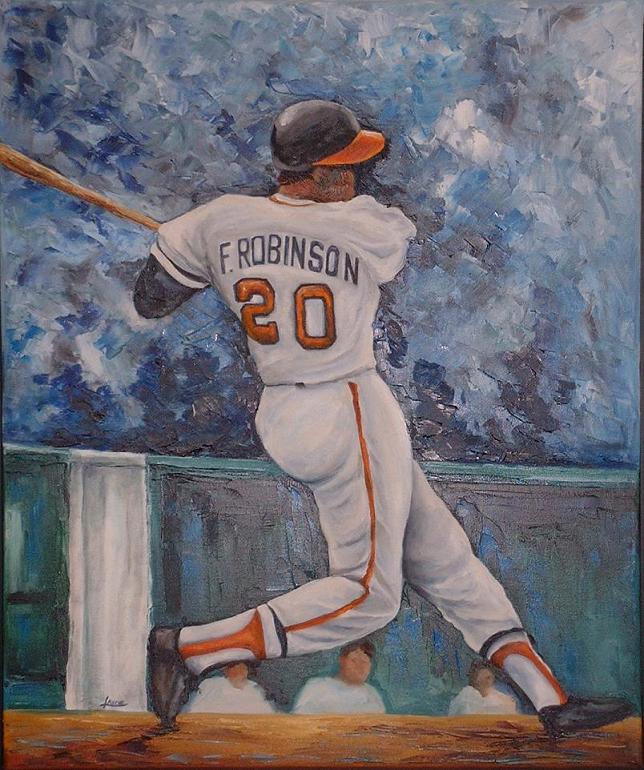 Frank Robinson is considered to be one of the greatest ever to put on a uniform. Early on in his career, Branch Rickey tried to acquire him for the Pittsburgh Pirates, the Reds general manager told Rickey he wouldn't trade Robinson for the entire Pirates team. On December 9th 1965, Robinson would be traded to the Baltimore Orioles because the Reds deemed him "too old at thirty." He went on to win the American League MVP and Triple Crown in 1966. He was to win MVP in both the American and National league and became the first black manager in the major leagues. In 2002, he was named manager of the Montreal Expos. He would be the 'Spos last manager. Frank Robinson
---
Dignity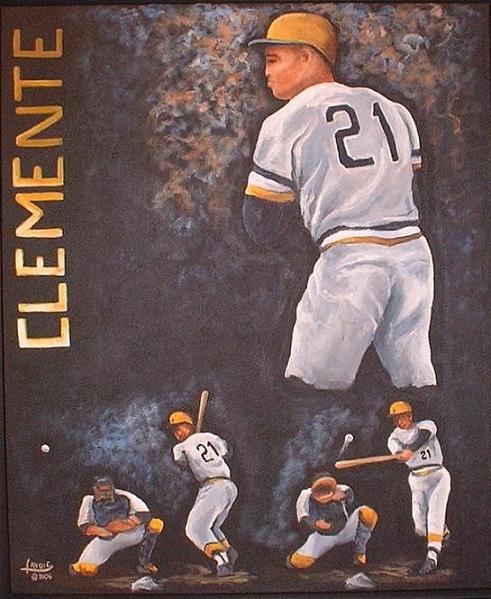 Roberto Clemente was the first Puerto Rican player to connect for his 3000th hit (September 1972). He was named as the 1971 World Series MVP (batting .414). Four-time winner of the batting title, he averaged over .300 in 13 of his 18 seasons and finished with a lifetime .317. Even more heroically, Roberto Clemente undertook a relief mission to assist the victims of the devastating Nicaraguan earthquake in December 1972. He was killed in a plane crash during that mission. Roberto Clemente
---
Grunt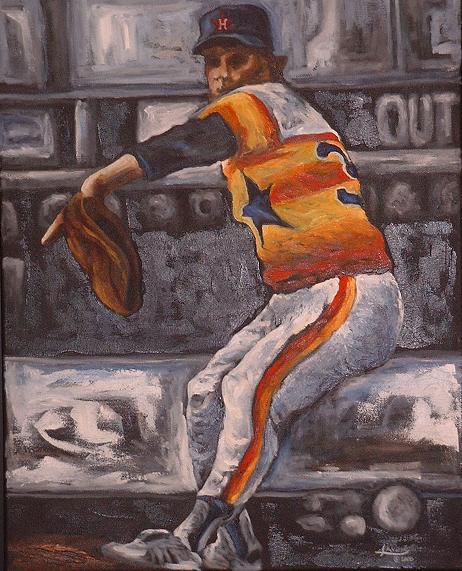 Nolan Ryan rewrote the record book on the 27th of April 1983. On that date, he surpassed Walter Johnson as Major League strike out king. Brad Mills of the Montreal Expos was his historic victim. The Ryan Express is synonymous with power pitching.